COFFEE MILK

Iced coffee the Addison County way! That perfect blend of coffee and Monument Fresh milk, with just the right hint of sweetness. See what makes our Monument Fresh local Coffee Milk so famous.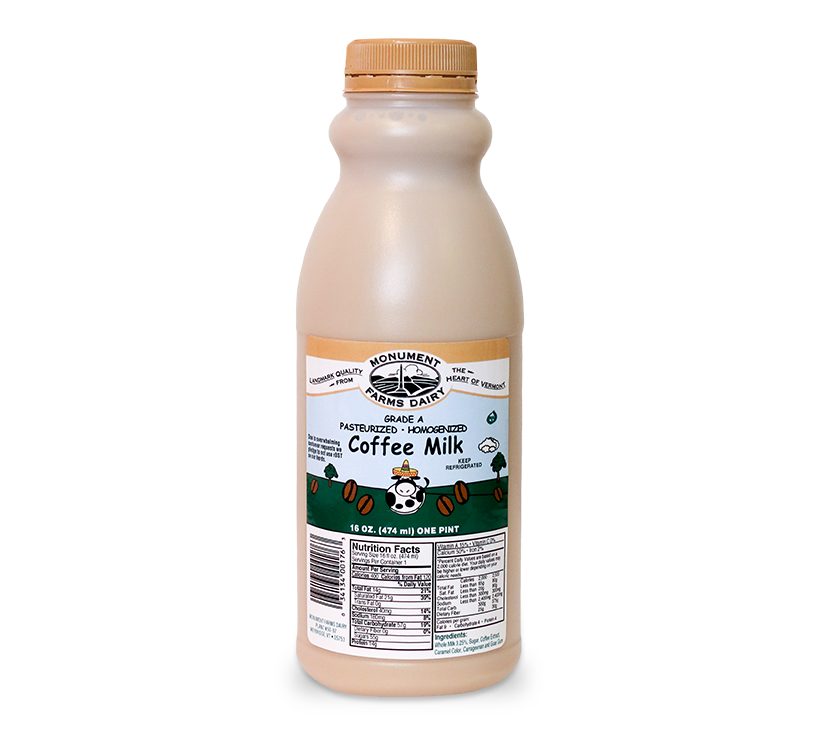 Ingredients
Whole Milk
Sugar
Coffee Extract
Caramel Color
Carrageenan
Guar Gum
Available Sizes
Nutrition Facts
Serving Size
16 fl oz (474 ml)
*Percent Daily Values are based on a 2,000 calorie diet.
What's Cooking?
Fresh Recipes

Cavatappi Carbonara – Leunig's Bistro
Executive Chef and Co-Owner, Donnell Collins, strives for local ingredients to give Leunig's Bistro, not only its famous flavors but also its unique experience. Here she shares the recipe for their Cavatappi Carbonara.
Taste it at Leunig's Bistro or make it at home! There's a lot of different chocolate milks out there, a lot of milks out there. I wanted to make sure we used Monument Farms. It has less ingredients, and it tastes better.
Trey Peiffer
Director of Operations, The Bagel Place
Easy. Profitable. Fresh.
Contact Us
Showing 10 out of 287 results
1123 Main St , Fairfax, VT
Forestdale Grocery & Deli
()
P.O. Box 3 , Forestdale, VT
103A Pearl St. , Essex Junction, VT
26 Seymour Street , Middlebury, VT
39 Park Street , Essex Junction, VT
Eastview at Middlebury
()
100 Eastview Terrace , Middlebury, VT
Erica's American Diner
()
951 Main Street , Fairfield, VT
50 Susie Wilson Rd , Essex Jct, VT
Essex Discount Beverage & Deli
()
76 Center Road , Essex, VT
1127 North Ave Suite 29 , Burlington, VT
Find Products Near you