HALF & HALF

Put some Monument Fresh local Half and Half in your coffee. You'll see us at some of the most popular bagel shops and cafes all over Vermont. Check with your favorite coffee hot-spot and see if they're stocking Monument Fresh. Or just bring us home! Our local Half and Half blend will take your coffee to another level.  See what makes Monument Fresh local Half and Half so famous!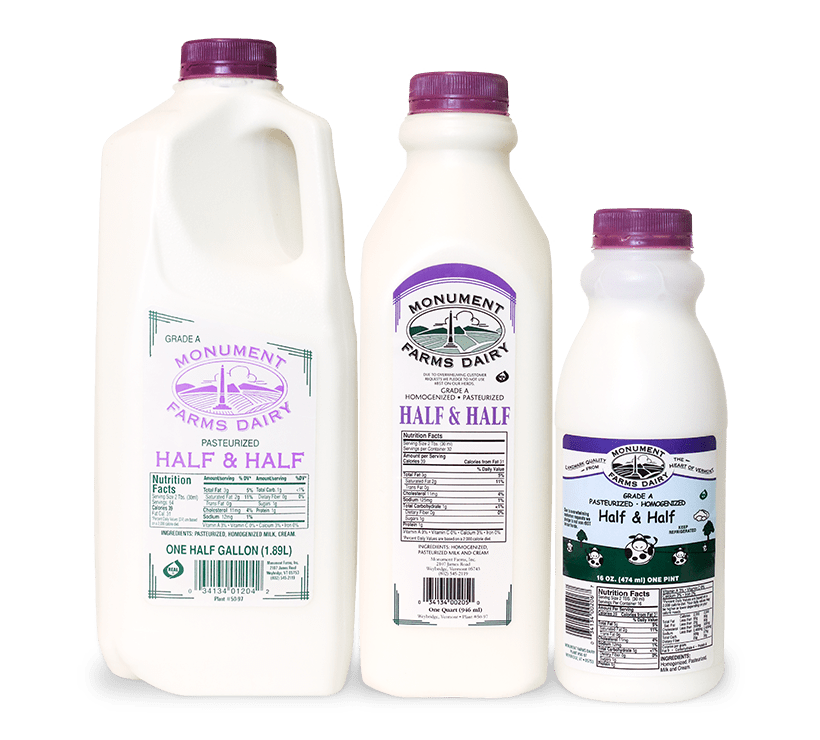 Ingredients
Available Sizes
Nutrition Facts
Serving Size
2 Tbs (30ml)
*Percent Daily Values are based on a 2,000 calorie diet.
What's Cooking?
Fresh Recipes

CHAMPAGNE CHICKEN – Fire & Ice Restaurant
Using Monument Farms Vermont Heavy Cream, Mike Cooley, chef at Fire & Ice Restaurant in Middlebury, shares his delectable Champagne Chicken recipe.
Taste it at the Fire & Ice Restaurant or make it at home!

In Vermont, local is number one. Monument Farms supplies all of our dairy products. We want to make a good product and we want to do it with good ingredients.
Donnell Collins
Executive Chef and Co-Owner, Leunig's Bistro
Easy. Profitable. Fresh.
Contact Us
Showing 10 out of 287 results
1123 Main St , Fairfax, VT
Forestdale Grocery & Deli
()
P.O. Box 3 , Forestdale, VT
103A Pearl St. , Essex Junction, VT
26 Seymour Street , Middlebury, VT
39 Park Street , Essex Junction, VT
Eastview at Middlebury
()
100 Eastview Terrace , Middlebury, VT
Erica's American Diner
()
951 Main Street , Fairfield, VT
50 Susie Wilson Rd , Essex Jct, VT
Essex Discount Beverage & Deli
()
76 Center Road , Essex, VT
1127 North Ave Suite 29 , Burlington, VT
Find Products Near you