Whole
CHOCOLATE MILK

The drink of champions! Many of our Vermont college athletic teams drink Monument local Chocolate Milk as a post-workout benefit, and it's becoming a national trend. Chocolate milk has the electrolytes, sugar, and fat needed to boost recovery but only our local chocolate milk has the Monument Fresh taste that's made us famous.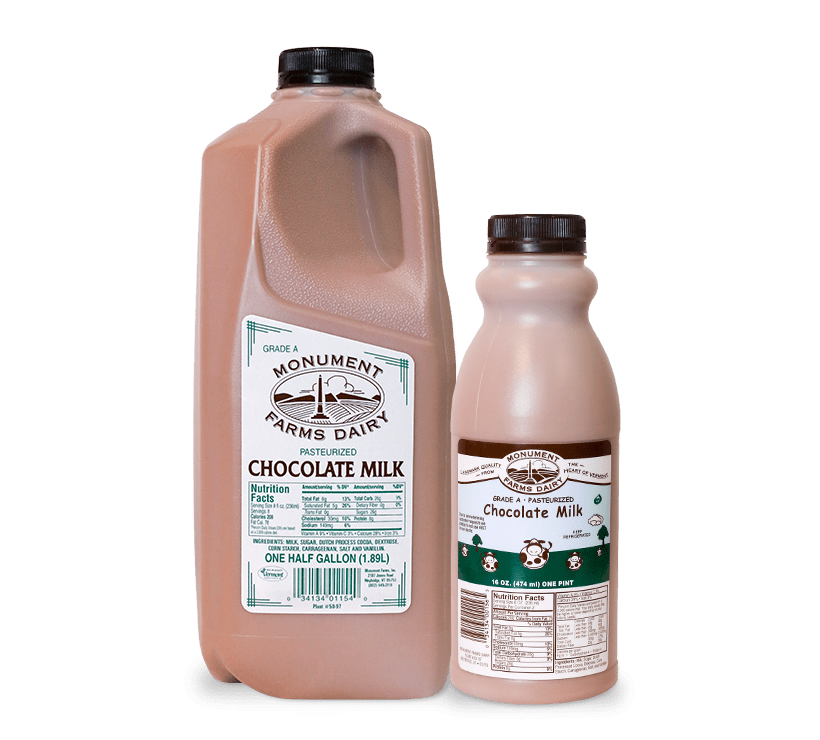 Ingredients
Milk
Sugar
Dutch Process Cocoa
Dextrose
Corn Starch
Carrageenan
Salt
Vanillin
Available Sizes
* 5-Gallon Dispenser Boxes are available for food service industry
Nutrition Facts
Serving Size
8 fl oz (236ml)
*Percent Daily Values are based on a 2,000 calorie diet.
What's Cooking?
Fresh Recipes

Do you know what makes Vermont summers absolute paradise? A local orange mimosa ice cream by the pool or on the deck! Special thanks to Laura Mack, owner of Lulu's Artisan Ice Cream, for sharing her super easy and refreshing recipe.
Surprise your family by whipping this tasty treat together at home, and don't forget to explore all of Lulu's specialty flavors by visiting their shop.

If it's not Monument Farms, we're not drinking it!
Joel
Customer, Fire & Ice Restaurant
Easy. Profitable. Fresh.
Contact Us
Showing 1 - 10 of 341 locations
71 S Union St, Burlington, VT 05401, USA

730 Lake Rd, Benson, VT 05731, USA

26 Common Rd, Westford, VT 05494, USA

446 West St, Rutland, VT 05701, USA

6886 VT-125, Hancock, VT 05748, USA

Waterhouses: Lodging, Campground & Marina, 937 W Shore Rd, Salisbury, VT 05769, USA

260 US-2, South Hero, VT 05486, USA

1 E Allen St, Winooski, VT 05404, USA

419 Main St, Colchester, VT 05446, USA

30 Union St, Brandon, VT 05733, USA
Find Products Near you