Whole
CHOCOLATE MILK

The drink of champions! Many of our Vermont college athletic teams drink Monument local Chocolate Milk as a post-workout benefit, and it's becoming a national trend. Chocolate milk has the electrolytes, sugar, and fat needed to boost recovery but only our local chocolate milk has the Monument Fresh taste that's made us famous.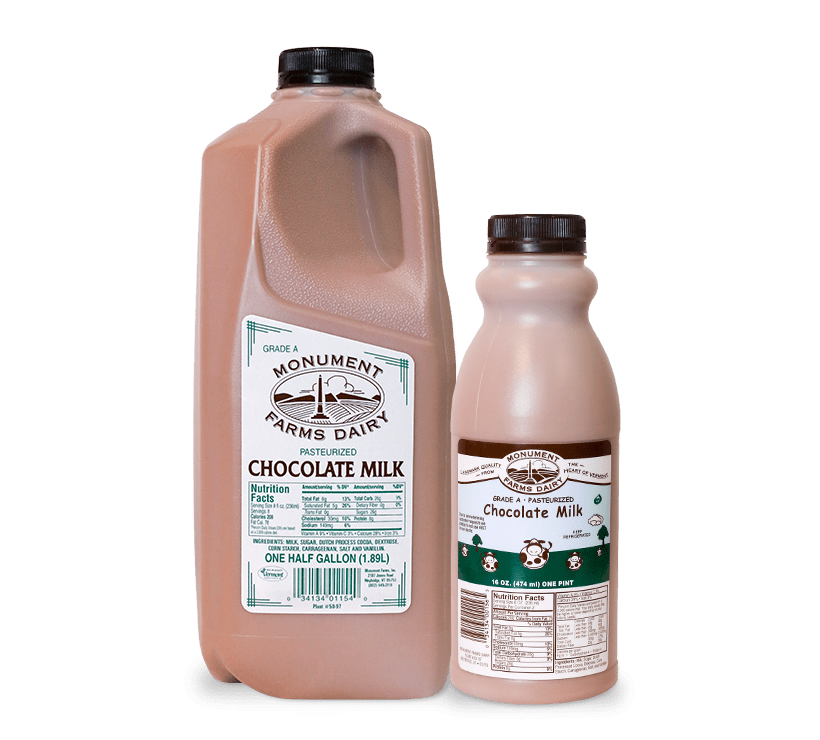 Ingredients
Milk
Sugar
Dutch Process Cocoa
Dextrose
Corn Starch
Carrageenan
Salt
Vanillin
Available Sizes
* 5-Gallon Dispenser Boxes are available for food service industry
Nutrition Facts
Serving Size
8 fl oz (236ml)
*Percent Daily Values are based on a 2,000 calorie diet.
What's Cooking?
Fresh Recipes

Cavatappi Carbonara – Leunig's Bistro
Executive Chef and Co-Owner, Donnell Collins, strives for local ingredients to give Leunig's Bistro, not only its famous flavors but also its unique experience. Here she shares the recipe for their Cavatappi Carbonara.
Taste it at Leunig's Bistro or make it at home! It's super clean, really nice, and I think that translates over so well to what we're doing...it makes our job easier in a lot of ways.
Paul Sansone
Co-Owner, Shy Guy Gelato
Easy. Profitable. Fresh.
Contact Us