Whole
CHOCOLATE MILK

The drink of champions! Many of our Vermont college athletic teams drink Monument local Chocolate Milk as a post-workout benefit, and it's becoming a national trend. Chocolate milk has the electrolytes, sugar, and fat needed to boost recovery but only our local chocolate milk has the Monument Fresh taste that's made us famous.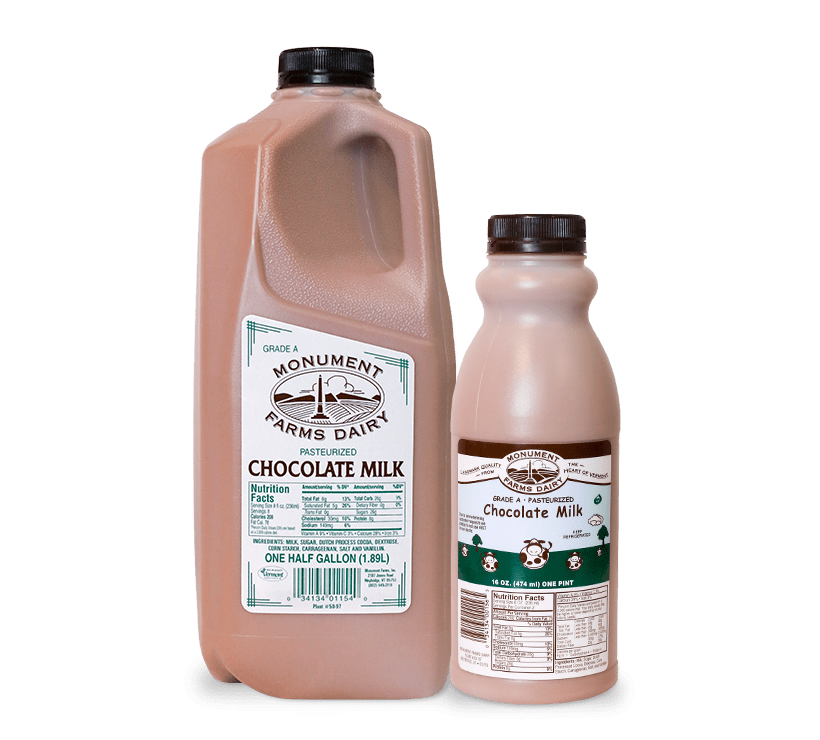 Ingredients
Milk
Sugar
Dutch Process Cocoa
Dextrose
Corn Starch
Carrageenan
Salt
Vanillin
Available Sizes
* 5-Gallon Dispenser Boxes are available for food service industry
Nutrition Facts
Serving Size
8 fl oz (236ml)
*Percent Daily Values are based on a 2,000 calorie diet.
What's Cooking?
Fresh Recipes

Cavatappi Carbonara – Leunig's Bistro
Executive Chef and Co-Owner, Donnell Collins, strives for local ingredients to give Leunig's Bistro, not only its famous flavors but also its unique experience. Here she shares the recipe for their Cavatappi Carbonara.
Taste it at Leunig's Bistro or make it at home! We had no plan to keep our Monument Milk Machine for this long, but the reception was so positive, we had no other choice. Our Monument Milk Machine is one of the most memorable things for people who visit us.
Paris Rinder-Goddard
Owner, Fire & Ice Restaurant
Easy. Profitable. Fresh.
Contact Us
Showing 10 out of 242 results
Sunny Hollow Quik Stop
()
973 Roosevelt Highway , Colchester, VT
P.O. Box 9003 21 Essex Way, Suite 418, Essex Junction, VT
P.O. Box 147 585 Lake Rd., St. Albans, VT
Brians Auto – store & Deli
()
98 North Ave, Suite 2 , Burlington, VT
590 Main Street , Burlington, VT
Vergennes Com. Food Shelf @SCM
()
30 Water Street , Vergennes, VT
Village Deli & Market,The
()
P.O. Box 14 31 Main Street North, Bakersfield, VT
48 Town Hill Rd , New Haven, VT
P.O. Box 165 278 River Rd, Underhill Center, VT
West Addison General store,Inc.
()
5944 VT Route 17 West , Addison, VT
Find Products Near you