Lowfat
1% MILK

What ensures our local 1% milk has a fresh, consistent flavor? Cow nutrition and comfort. Optimal nutrition for a dairy cow can be equated to a top athlete. Our cows enjoy a quality feed program that is nutrient optimized on a regular basis, along with state-of-the-art cow comfort practices. Just another reason our Monument Fresh taste is so famous.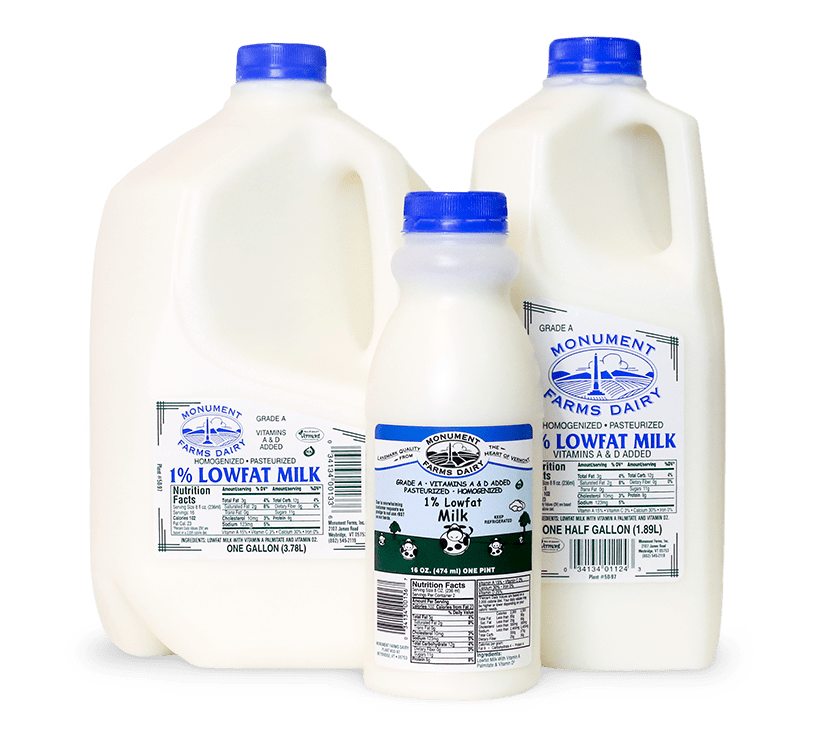 Ingredients
Low-Fat Milk
Vitamin A Palmitate
Vitamin D2
Available Sizes
Nutrition Facts
Serving Size
8 fl oz (236ml)
*Percent Daily Values are based on a 2,000 calorie diet.
What's Cooking?
Fresh Recipes

Champagne Chicken – Fire & Ice Restaurant
Using Monument Farms Vermont Heavy Cream, Mike Cooley, chef at Fire & Ice Restaurant in Middlebury, shares his delectable Champagne Chicken recipe.
Taste it at the Fire & Ice Restaurant or make it at home!

If it's not Monument Farms, we're not drinking it!
Joel
Customer, Fire & Ice Restaurant
Easy. Profitable. Fresh.
Contact Us
Showing 1 - 10 of 341 locations
71 S Union St, Burlington, VT 05401, USA

730 Lake Rd, Benson, VT 05731, USA

26 Common Rd, Westford, VT 05494, USA

446 West St, Rutland, VT 05701, USA

6886 VT-125, Hancock, VT 05748, USA

Waterhouses: Lodging, Campground & Marina, 937 W Shore Rd, Salisbury, VT 05769, USA

260 US-2, South Hero, VT 05486, USA

1 E Allen St, Winooski, VT 05404, USA

419 Main St, Colchester, VT 05446, USA

30 Union St, Brandon, VT 05733, USA
Find Products Near you