Lowfat
1% CHOCOLATE MILK

"It's not like we have chocolate cows." Real granulated sugar and Monument Fresh milk. That's the secret blend that produces the tastiest, most addictive, cannot-be-replicated local chocolate milk. Simple and fresh. Like everything we do.  Taste our famous Monument Fresh local chocolate milk. You won't go back!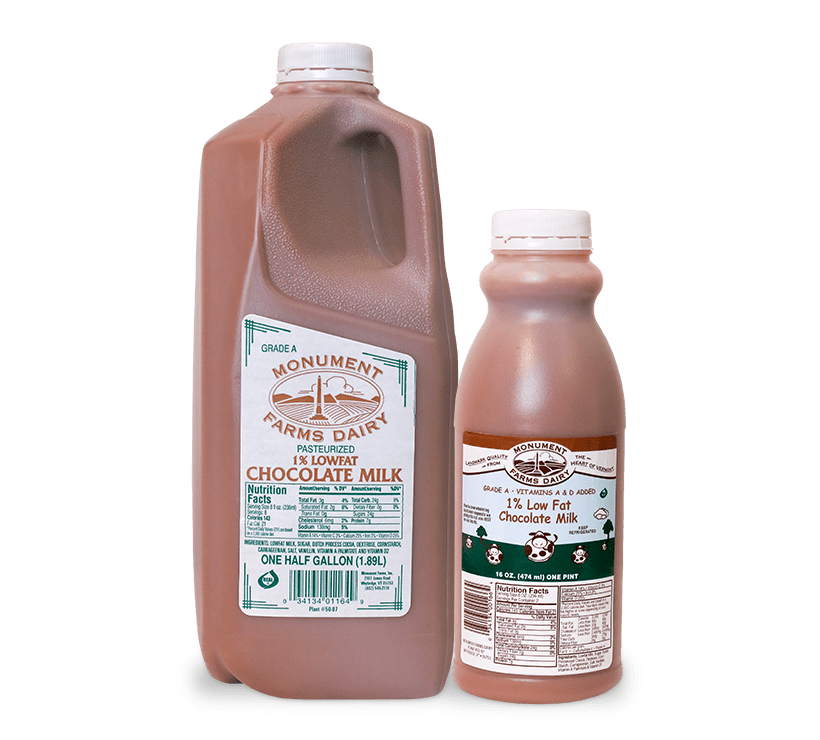 Ingredients
Lowfat Milk
Sugar
Dutch Process Cocoa
Dextrose
Cornstarch
Carrageenan
Salt
Vanillin
Vitamin A Palmitate
Vitamin D2
Available Sizes
Nutrition Facts
Serving Size
8 fl oz (236ml)
*Percent Daily Values are based on a 2,000 calorie diet.
What's Cooking?
Fresh Recipes

Champagne Chicken – Fire & Ice Restaurant
Using Monument Farms Vermont Heavy Cream, Mike Cooley, chef at Fire & Ice Restaurant in Middlebury, shares his delectable Champagne Chicken recipe.
Taste it at the Fire & Ice Restaurant or make it at home!

In Vermont, local is number one. Monument Farms supplies all of our dairy products. We want to make a good product and we want to do it with good ingredients.
Donnell Collins
Executive Chef and Co-Owner, Leunig's Bistro
Easy. Profitable. Fresh.
Contact Us
Showing 1 - 10 of 341 locations
71 S Union St, Burlington, VT 05401, USA

730 Lake Rd, Benson, VT 05731, USA

26 Common Rd, Westford, VT 05494, USA

446 West St, Rutland, VT 05701, USA

6886 VT-125, Hancock, VT 05748, USA

Waterhouses: Lodging, Campground & Marina, 937 W Shore Rd, Salisbury, VT 05769, USA

260 US-2, South Hero, VT 05486, USA

1 E Allen St, Winooski, VT 05404, USA

419 Main St, Colchester, VT 05446, USA

30 Union St, Brandon, VT 05733, USA
Find Products Near you