Lowfat
1% CHOCOLATE MILK

"It's not like we have chocolate cows." Real granulated sugar and Monument Fresh milk. That's the secret blend that produces the tastiest, most addictive, cannot-be-replicated local chocolate milk. Simple and fresh. Like everything we do.  Taste our famous Monument Fresh local chocolate milk. You won't go back!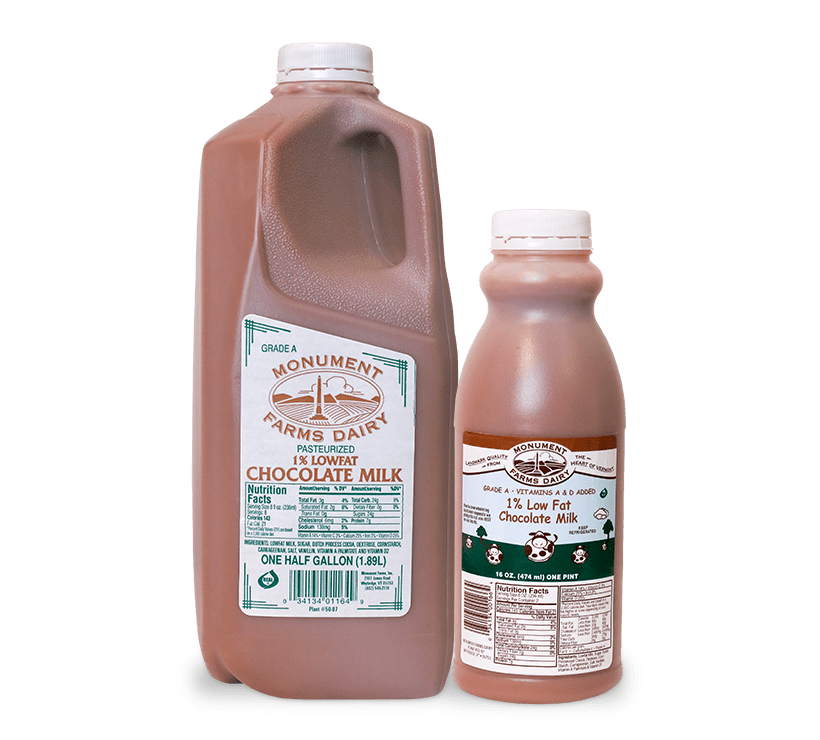 Ingredients
Lowfat Milk
Sugar
Dutch Process Cocoa
Dextrose
Cornstarch
Carrageenan
Salt
Vanillin
Vitamin A Palmitate
Vitamin D2
Available Sizes
Nutrition Facts
Serving Size
8 fl oz (236ml)
*Percent Daily Values are based on a 2,000 calorie diet.
What's Cooking?
Fresh Recipes

CHAMPAGNE CHICKEN – Fire & Ice Restaurant
Using Monument Farms Vermont Heavy Cream, Mike Cooley, chef at Fire & Ice Restaurant in Middlebury, shares his delectable Champagne Chicken recipe.
Taste it at the Fire & Ice Restaurant or make it at home!

If it's not Monument Farms, we're not drinking it!
Joel
Customer, Fire & Ice Restaurant
Easy. Profitable. Fresh.
Contact Us
Showing 10 out of 287 results
1123 Main St , Fairfax, VT
Forestdale Grocery & Deli
()
P.O. Box 3 , Forestdale, VT
103A Pearl St. , Essex Junction, VT
26 Seymour Street , Middlebury, VT
39 Park Street , Essex Junction, VT
Eastview at Middlebury
()
100 Eastview Terrace , Middlebury, VT
Erica's American Diner
()
951 Main Street , Fairfield, VT
50 Susie Wilson Rd , Essex Jct, VT
Essex Discount Beverage & Deli
()
76 Center Road , Essex, VT
1127 North Ave Suite 29 , Burlington, VT
Find Products Near you