HEAVY CREAM

Our local Heavy Cream has a cult-like following; from the chocolatiers of Lake Champlain Chocolates, the chefs at Fire & Ice and Leunig's Bistro, to the bakers from Klingers and Mirabelles. Monument produces a heavy cream with a fat ratio substantially higher than others on the market, delivering a richer taste and giving you a secret ingredient that makes your recipes famous!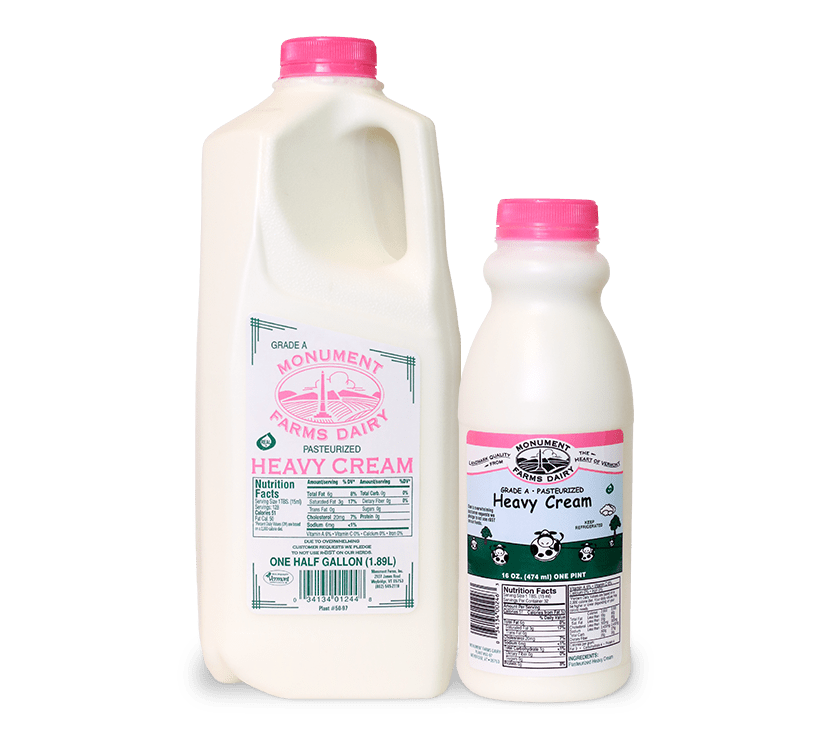 Ingredients
Available Sizes
Nutrition Facts
Serving Size
1 Tbs. (15ml)
*Percent Daily Values are based on a 2,000 calorie diet.
What's Cooking?
Fresh Recipes

Champagne Chicken – Fire & Ice Restaurant
Using Monument Farms Vermont Heavy Cream, Mike Cooley, chef at Fire & Ice Restaurant in Middlebury, shares his delectable Champagne Chicken recipe.
Taste it at the Fire & Ice Restaurant or make it at home!

If it's not Monument Farms, we're not drinking it!
Joel
Customer, Fire & Ice Restaurant
Easy. Profitable. Fresh.
Contact Us
Showing 10 out of 242 results
Sunny Hollow Quik Stop
()
973 Roosevelt Highway , Colchester, VT
P.O. Box 9003 21 Essex Way, Suite 418, Essex Junction, VT
P.O. Box 147 585 Lake Rd., St. Albans, VT
Brians Auto – store & Deli
()
98 North Ave, Suite 2 , Burlington, VT
590 Main Street , Burlington, VT
Vergennes Com. Food Shelf @SCM
()
30 Water Street , Vergennes, VT
Village Deli & Market,The
()
P.O. Box 14 31 Main Street North, Bakersfield, VT
48 Town Hill Rd , New Haven, VT
P.O. Box 165 278 River Rd, Underhill Center, VT
West Addison General store,Inc.
()
5944 VT Route 17 West , Addison, VT
Find Products Near you