HEAVY CREAM

Our local Heavy Cream has a cult-like following; from the chocolatiers of Lake Champlain Chocolates, the chefs at Fire & Ice and Leunig's Bistro, to the bakers from Klingers and Mirabelles. Monument produces a heavy cream with a fat ratio substantially higher than others on the market, delivering a richer taste and giving you a secret ingredient that makes your recipes famous!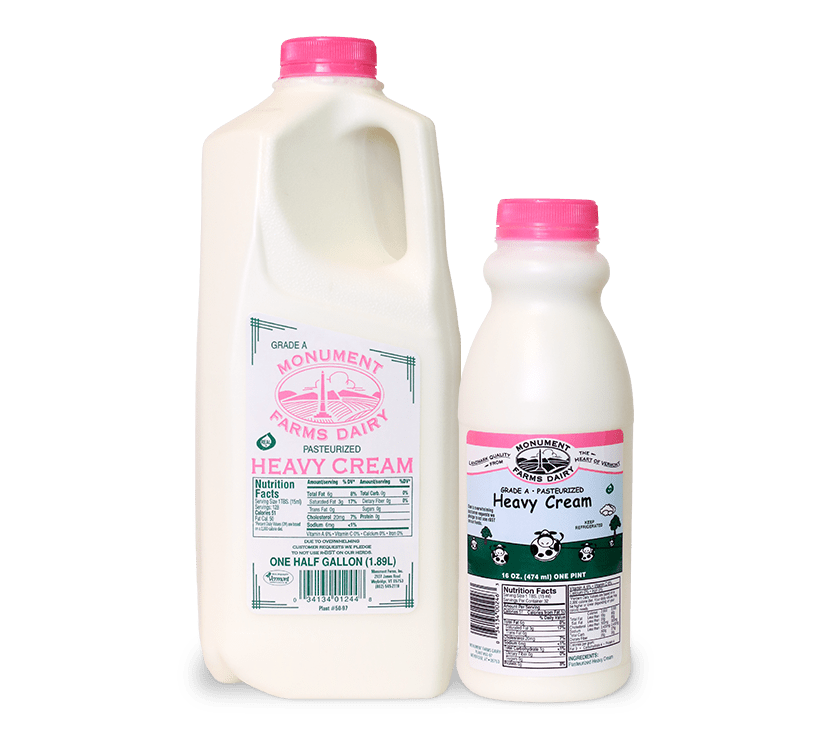 Ingredients
Available Sizes
Nutrition Facts
Serving Size
1 Tbs. (15ml)
*Percent Daily Values are based on a 2,000 calorie diet.
What's Cooking?
Fresh Recipes

Champagne Chicken – Fire & Ice Restaurant
Using Monument Farms Vermont Heavy Cream, Mike Cooley, chef at Fire & Ice Restaurant in Middlebury, shares his delectable Champagne Chicken recipe.
Taste it at the Fire & Ice Restaurant or make it at home!

We have tried other creams before, and when there was a difference in taste, we knew that Monument Farms...tasted better.
Allyson Myers
Director of Sales and Marketing, Lake Champlain Chocolates
Easy. Profitable. Fresh.
Contact Us
Showing 1 - 10 of 341 locations
71 S Union St, Burlington, VT 05401, USA

730 Lake Rd, Benson, VT 05731, USA

26 Common Rd, Westford, VT 05494, USA

446 West St, Rutland, VT 05701, USA

6886 VT-125, Hancock, VT 05748, USA

Waterhouses: Lodging, Campground & Marina, 937 W Shore Rd, Salisbury, VT 05769, USA

260 US-2, South Hero, VT 05486, USA

1 E Allen St, Winooski, VT 05404, USA

419 Main St, Colchester, VT 05446, USA

30 Union St, Brandon, VT 05733, USA
Find Products Near you