HEAVY CREAM

Our local Heavy Cream has a cult-like following; from the chocolatiers of Lake Champlain Chocolates, the chefs at Fire & Ice and Leunig's Bistro, to the bakers from Klingers and Mirabelles. Monument produces a heavy cream with a fat ratio substantially higher than others on the market, delivering a richer taste and giving you a secret ingredient that makes your recipes famous!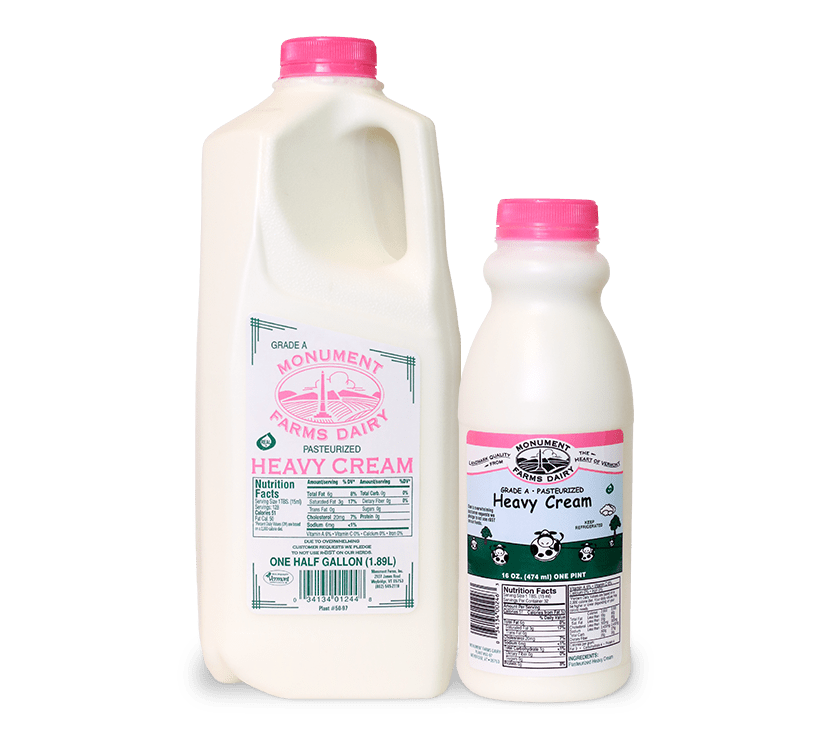 Ingredients
Available Sizes
Nutrition Facts
Serving Size
1 Tbs. (15ml)
*Percent Daily Values are based on a 2,000 calorie diet.
What's Cooking?
Fresh Recipes

Cavatappi Carbonara – Leunig's Bistro
Executive Chef and Co-Owner, Donnell Collins, strives for local ingredients to give Leunig's Bistro, not only its famous flavors but also its unique experience. Here she shares the recipe for their Cavatappi Carbonara.
Taste it at Leunig's Bistro or make it at home! In Vermont, local is number one. Monument Farms supplies all of our dairy products. We want to make a good product and we want to do it with good ingredients.
Donnell Collins
Executive Chef and Co-Owner, Leunig's Bistro
Easy. Profitable. Fresh.
Contact Us
Showing 10 out of 242 results
Sunny Hollow Quik Stop
()
973 Roosevelt Highway , Colchester, VT
P.O. Box 9003 21 Essex Way, Suite 418, Essex Junction, VT
P.O. Box 147 585 Lake Rd., St. Albans, VT
Brians Auto – store & Deli
()
98 North Ave, Suite 2 , Burlington, VT
590 Main Street , Burlington, VT
Vergennes Com. Food Shelf @SCM
()
30 Water Street , Vergennes, VT
Village Deli & Market,The
()
P.O. Box 14 31 Main Street North, Bakersfield, VT
48 Town Hill Rd , New Haven, VT
P.O. Box 165 278 River Rd, Underhill Center, VT
West Addison General store,Inc.
()
5944 VT Route 17 West , Addison, VT
Find Products Near you