HEAVY CREAM

Our local Heavy Cream has a cult-like following; from the chocolatiers of Lake Champlain Chocolates, the chefs at Fire & Ice and Leunig's Bistro, to the bakers from Klingers and Mirabelles. Monument produces a heavy cream with a fat ratio substantially higher than others on the market, delivering a richer taste and giving you a secret ingredient that makes your recipes famous!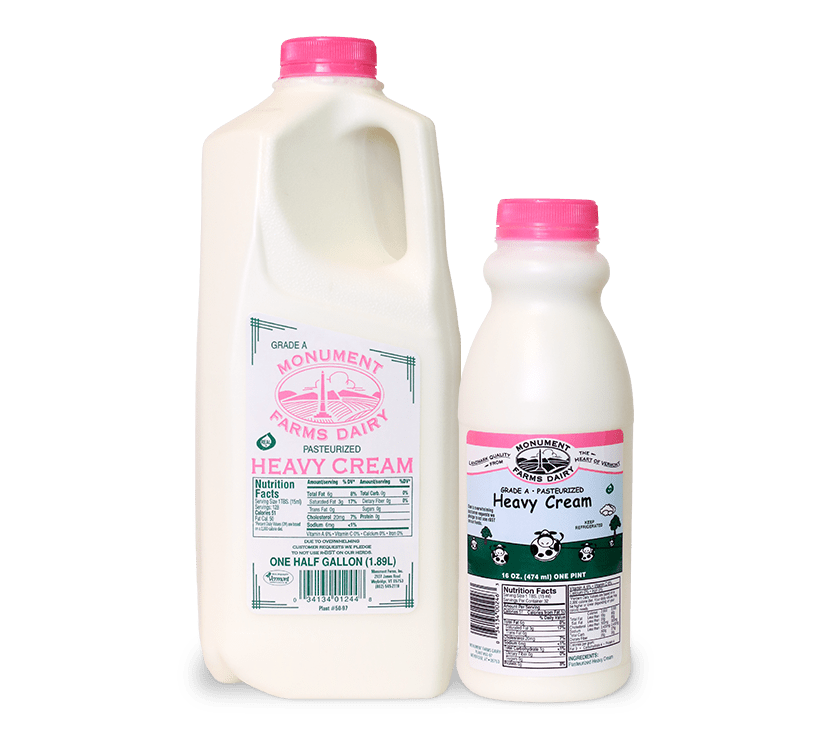 Ingredients
Available Sizes
Nutrition Facts
Serving Size
1 Tbs. (15ml)
*Percent Daily Values are based on a 2,000 calorie diet.
What's Cooking?
Fresh Recipes

Do you know what makes Vermont summers absolute paradise? A local orange mimosa ice cream by the pool or on the deck! Special thanks to Laura Mack, owner of Lulu's Artisan Ice Cream, for sharing her super easy and refreshing recipe.
Surprise your family by whipping this tasty treat together at home, and don't forget to explore all of Lulu's specialty flavors by visiting their shop.

We had no plan to keep our Monument Milk Machine for this long, but the reception was so positive, we had no other choice. Our Monument Milk Machine is one of the most memorable things for people who visit us.
Paris Rinder-Goddard
Owner, Fire & Ice Restaurant
Easy. Profitable. Fresh.
Contact Us