HEAVY CREAM

Our local Heavy Cream has a cult-like following; from the chocolatiers of Lake Champlain Chocolates, the chefs at Fire & Ice and Leunig's Bistro, to the bakers from Klingers and Mirabelles. Monument produces a heavy cream with a fat ratio substantially higher than others on the market, delivering a richer taste and giving you a secret ingredient that makes your recipes famous!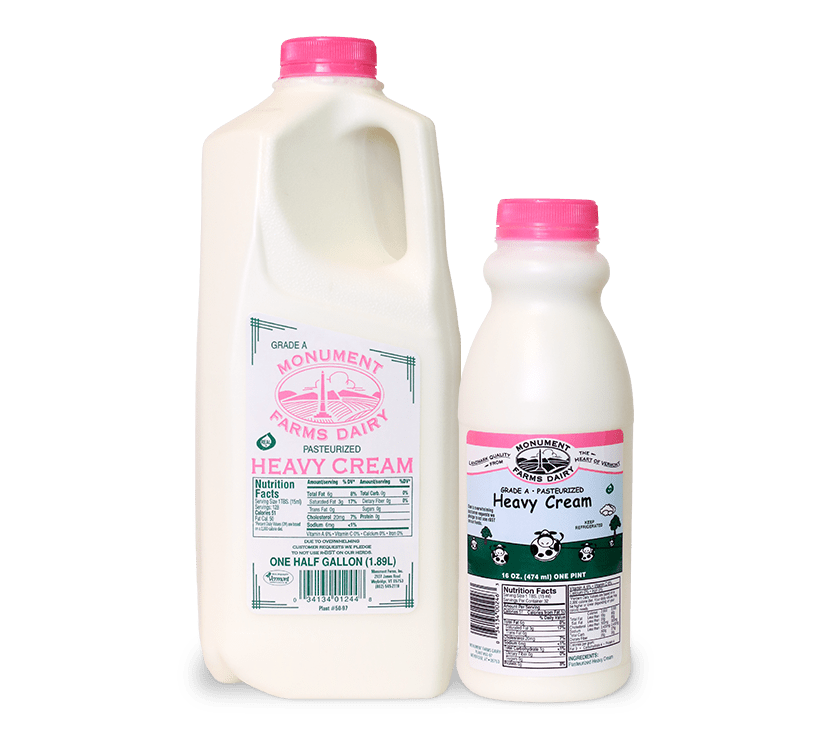 Ingredients
Available Sizes
Nutrition Facts
Serving Size
1 Tbs. (15ml)
*Percent Daily Values are based on a 2,000 calorie diet.
What's Cooking?
Fresh Recipes


The best thing about Vermont is that every town and every General Store is guaranteed to have a secret recipe that is irresistible! Andy Buxton has always used Monument Farms products to get the most out of his delicious recipes. Try your hand at their Roasted Garlic Potato soup recipe which is always a town favorite in Orwell, VT!
Taste it at Buxton's Store, or make it to warm the family at home on a chilly Vermont night! It's super clean, really nice, and I think that translates over so well to what we're doing...it makes our job easier in a lot of ways.
Paul Sansone
Co-Owner, Shy Guy Gelato
Easy. Profitable. Fresh.
Contact Us
Showing 1 - 10 of 341 locations
71 S Union St, Burlington, VT 05401, USA

730 Lake Rd, Benson, VT 05731, USA

26 Common Rd, Westford, VT 05494, USA

446 West St, Rutland, VT 05701, USA

6886 VT-125, Hancock, VT 05748, USA

Waterhouses: Lodging, Campground & Marina, 937 W Shore Rd, Salisbury, VT 05769, USA

260 US-2, South Hero, VT 05486, USA

1 E Allen St, Winooski, VT 05404, USA

419 Main St, Colchester, VT 05446, USA

30 Union St, Brandon, VT 05733, USA
Find Products Near you