HEAVY CREAM

Our local Heavy Cream has a cult-like following; from the chocolatiers of Lake Champlain Chocolates, the chefs at Fire & Ice and Leunig's Bistro, to the bakers from Klingers and Mirabelles. Monument produces a heavy cream with a fat ratio substantially higher than others on the market, delivering a richer taste and giving you a secret ingredient that makes your recipes famous!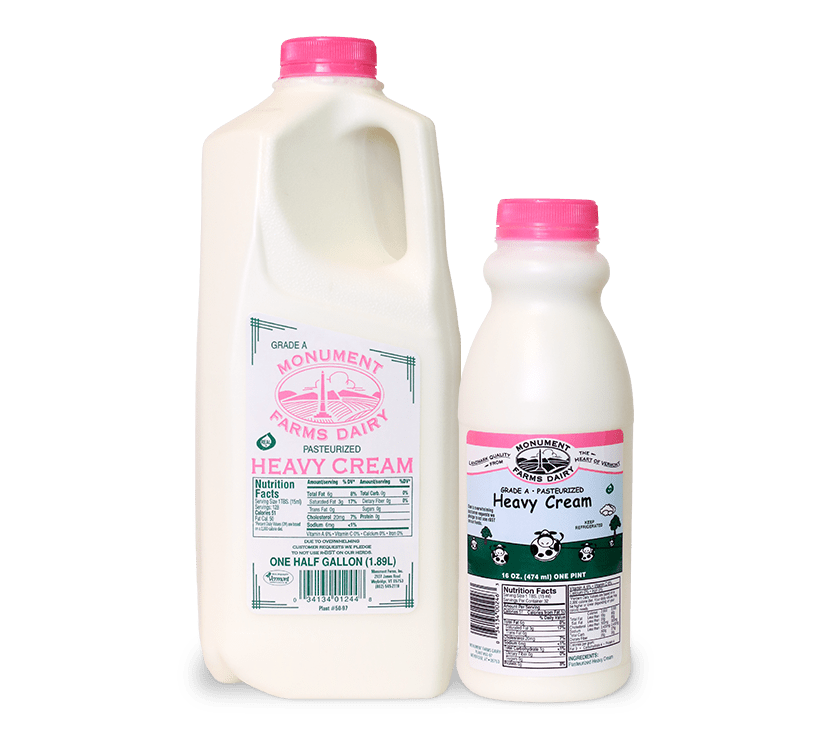 Ingredients
Available Sizes
Nutrition Facts
Serving Size
1 Tbs. (15ml)
*Percent Daily Values are based on a 2,000 calorie diet.
What's Cooking?
Fresh Recipes

Do you know what makes Vermont summers absolute paradise? A local orange mimosa ice cream by the pool or on the deck! Special thanks to Laura Mack, owner of Lulu's Artisan Ice Cream, for sharing her super easy and refreshing recipe.
Surprise your family by whipping this tasty treat together at home, and don't forget to explore all of Lulu's specialty flavors by visiting their shop.

When we switched over to Monument Farms, our sales tripled. I'm blown away by the milk we go through. We can't keep Monument Farms on the shelves.
Annie Kennedy
Manager, Burlington Bagel Bakery
Easy. Profitable. Fresh.
Contact Us
Showing 10 out of 340 results
71 S Union St, Burlington, VT 05401, USA
730 Lake Rd, Benson, VT 05731, USA
Westford Country Store & Cafe
()
26 Common Rd, Westford, VT 05494, USA
West St Mobil Smart Shop
()
446 West St, Rutland, VT 05701, USA
6886 VT-125, Hancock, VT 05748, USA
Waterhouses Campground & Marina
()
Waterhouses: Lodging, Campground & Marina, 937 W Shore Rd, Salisbury, VT 05769, USA
Wallys Place & Bagel Deli
()
260 US-2, South Hero, VT 05486, USA
1 E Allen St, Winooski, VT 05404, USA
419 Main St, Colchester, VT 05446, USA
30 Union St, Brandon, VT 05733, USA
Find Products Near you