Fat-Free
SKIM MILK

What ensures our local skim milk has a fresh, consistent flavor? Cow nutrition and comfort. Optimal nutrition for a dairy cow can be equated to a top athlete. Our cows enjoy a quality feed program that is nutrient optimized on a regular basis, along with state-of-the-art cow comfort practices. Just another reason our Monument Fresh taste is so famous.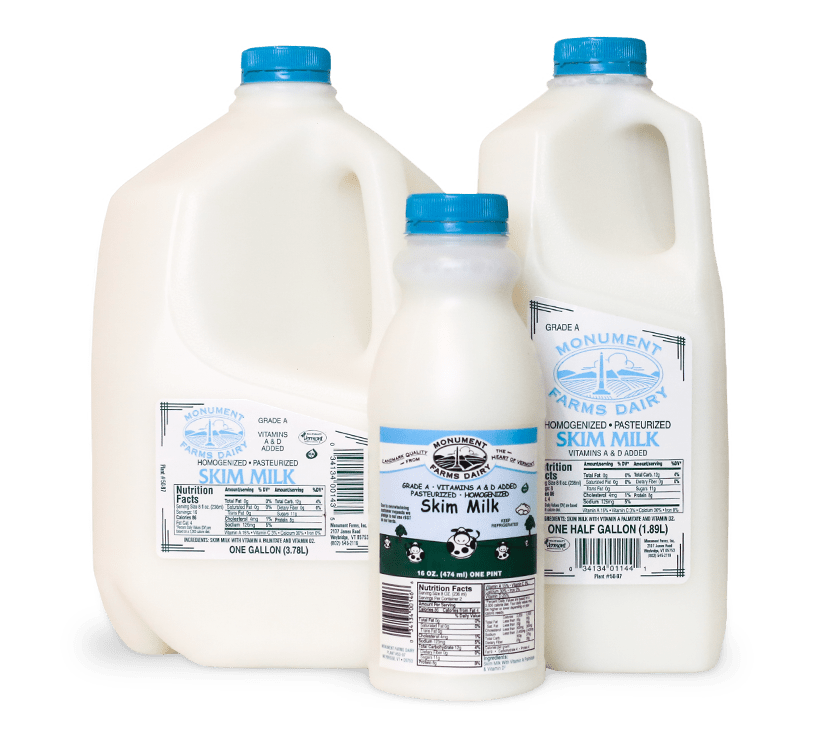 Ingredients
Skim Milk
Vitamin A Palmitate
Vitamin D2
Available Sizes
* 5-Gallon Dispenser Boxes are available for food service industry
Nutrition Facts
Serving Size
8 fl oz (236ml)
*Percent Daily Values are based on a 2,000 calorie diet.
What's Cooking?
Fresh Recipes


The best thing about Vermont is that every town and every General Store is guaranteed to have a secret recipe that is irresistible! Andy Buxton has always used Monument Farms products to get the most out of his delicious recipes. Try your hand at their Roasted Garlic Potato soup recipe which is always a town favorite in Orwell, VT!
Taste it at Buxton's Store, or make it to warm the family at home on a chilly Vermont night! You have never experienced chocolate milk until you've tasted Monument Farms chocolate milk.
Bailey Sherwin
Monument Customer, Bristol, VT
Easy. Profitable. Fresh.
Contact Us
Showing 1 - 10 of 341 locations
71 S Union St, Burlington, VT 05401, USA

730 Lake Rd, Benson, VT 05731, USA

26 Common Rd, Westford, VT 05494, USA

446 West St, Rutland, VT 05701, USA

6886 VT-125, Hancock, VT 05748, USA

Waterhouses: Lodging, Campground & Marina, 937 W Shore Rd, Salisbury, VT 05769, USA

260 US-2, South Hero, VT 05486, USA

1 E Allen St, Winooski, VT 05404, USA

419 Main St, Colchester, VT 05446, USA

30 Union St, Brandon, VT 05733, USA
Find Products Near you